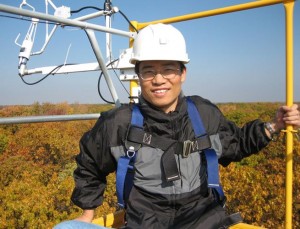 Qinglin Li
Ph.D., P. Ag
Analyst, Carbon modelling and Forest Inventory, Forest Analysis and Inventory Branch, Ministry of Forests, Lands, and Natural Resource Operations
Victoria, BC V8W 9C2
Research Interests:
Dr. Li's education and training are in forest ecology, landscape ecology, GIS and ecosystem modelling. He has worked on several projects focused on investigating landscape heterogeneity and complexity, mechanisms of pattern-process, disturbance impacts on ecosystem processes and functions, ecosystem adaptation and resilience, ecosystem mapping and three dimensional results visualization, and balancing landscape multiple values and services in multi-dimensional decision space for policy implications at different temporal and spatial scales. His research covers: effects of natural and anthropogenic disturbances on forest ecosystem carbon cycling; climate change and ecosystem resilience; GIS applications in landscape ecology; remote sensing and environments; mechanisms of ecosystem processes, functions, and environments; ecosystem modeling.